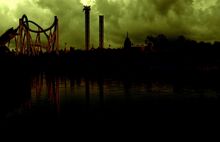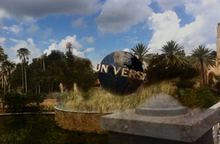 Universal Studios Orlando is one of the Universal Parks which is located in Orlando, Florida. If people disappeared, what will happen to this park when people disappear?
Life After People
1 Day after people
The power dies. Lights go out around the resort, and the attractions stop functioning.
6 Months after people
The last of the food rots away. Animals used in Animal Actors escape.
1 Year after people
The park's walkways are covered in greenery and saplings. Many garbage cans, signs and benches collapse around the park.
5 Years after people
Roughly 99% of the park is in tact. Many buildings in Springfield collapse.
10 Years after people
The Mummy animatronic collapses. Also, the famous Universal Globe is rusted.
20 Years after people
Many of the attractions begin to decompose. The screens of Shrek 4D, Minion Mayhem and others collapse. The park's animatronics are un-recognizable.
40 Years after people
Arm dangling rides such as Kang and Kudo's Hurl and Twirl, and One Fish Two Fish collapse. Over in Diagon Alley, the famous Hogwarts Express is overgrown with plant life.
50 Years people
The attractions vehicles all break apart, having stopped long ago. The dragon on top of Gringotts Bank falls apart.
100 Years people
Many of the smaller attractions, such as Men in Black, Minion Mayhem, and The Cat in the Hat collapse. The supports holding up the Suess Trolley collapse, destroying the trains.
120 Years people
The Universal Globe snaps off it's rusted supports. It sinks. All the outdoor theaters are destroyed.
190 Years people
Many buildings in both Hogsmeade and Diagon Alley collapse. The larger coasters such as The Incredible Hulk also collapse.
400 Years people
The park, though about 90% of it has collapsed, has outlasted it's rival Disney World.
1,600 Years people
The roof of Platform 9 3/4 collapses, destroying the Hogwarts Express. Gringotts collapses as well. Hogwarts Castle is the final remaining structure, although the ride inside has fallen apart long ago. It rivals Big Thunder Mountain now as the last structure at their respective park.
3,000 Years people
Hogwarts Castle collapses, Universal Studios Orlando is no more.
Community content is available under
CC-BY-SA
unless otherwise noted.